Ramirez Martin
Ramirez Martin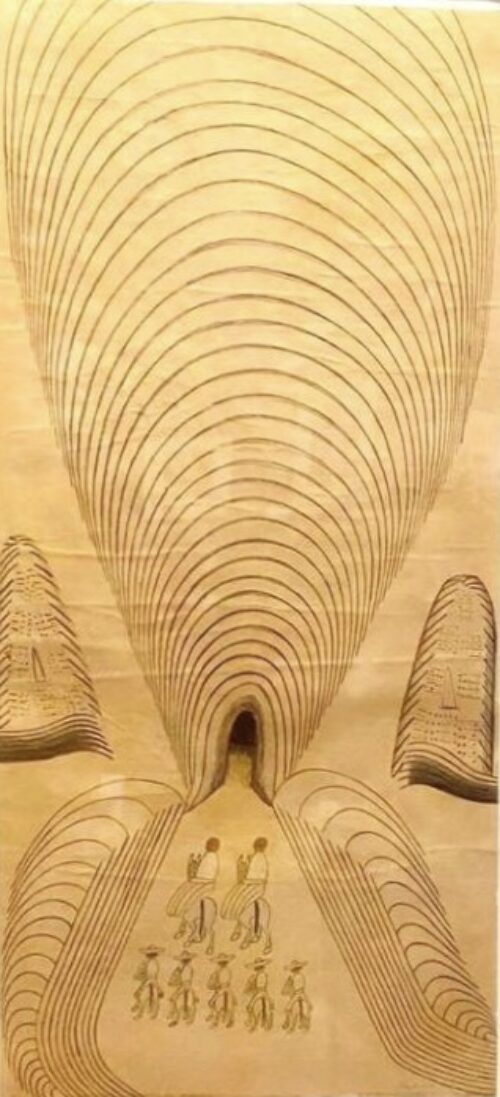 Sans titre, 1963, mine de plomb, crayon de couleur et feutre sur papier - graphite, coloured pencil and felt pen on paper, 130 x 60 cm
—
Available
Martin Ramirez (1895-1963)
Né le 30 janvier 1895 à Los Altos de Jalisco au Mexique, Ramirez vécu les trente premières années de sa vie dans son village natal en s'occupant de sa ferme et de ses animaux avec sa famille. Les problèmes politiques et la violence qui font rages dans le pays poussent Martin Ramirez à quitter son pays vers un « nouvel eldorado », les Etats-Unis.
Il s'installe en Californie du Nord où il travaille dans les mines et sur les chemins de fer. Martin Ramirez s'enfonce dans un profond mutisme dès 1915 suite à une dégradation de son état et à l'isolement auquel il est confronté à cause de la barrière de la langue. Les troubles de Ramirez s'intensifient, en 1931 il est interné à l'hôpital psychiatrique de Stockton State après qu'on lui ait diagnostiqué une schizophrénie catatonique.
A partir de 1935, l'artiste se met à dessiner, il récupère des papiers qu'il assemble grâce à une colle qu'il fabrique à partir de salive et de cire à chaussure, et dessine à l'aide de crayons de couleur, de crayons de papier ainsi que de charbon d'allumettes.
L'œuvre de Martin Ramirez est bouleversante et exceptionnelle. Grâce à l'artiste et professeur de psychologie Tarmo Pasto qui l'a rencontré au DeWitt State Hospital à Auburn en 1948, l'œuvre de Ramirez va être conservée et préservée. Tarmo Pasto va fournir Martin Ramirez en matériel et l'encourage à continuer son œuvre qui semble être à la fois narrative et abstraite.
Martin crée plus de 300 dessins sur de grand format, traduction d'une liberté illusoire, l'artiste produit un travail créatif et ingénieux où il utilise la couleur de manière remarquable afin de représenter les symboles visuels de son pays et ses souvenirs. Martin Ramirez se sert de lignes pures afin de créer une œuvre remarquable qui s'inspire de ses origines mexicaines et de son travail laborieux qu'il a effectué sur les lignes de chemins de fer.
Martin Ramirez est identifié comme l'un des plus grands artistes de l'art brut mondial.
Martin Ramirez (1895 – 1963)
Born on January 30, 1895 in Los Altos de Jalisco, Mexico, Ramirez lived the first thirty years of his life in his native village, taking care of his farm and animals with his family. The political problems and violence raging in the country push Martin Ramirez to leave his country for a "new El Dorado", the United States.
He settled in Northern California where he worked in mines and on the railroads. Martin Ramirez fell into deep silence in 1915 following a deterioration in his condition and the isolation he faced due to the language barrier. Ramirez's troubles intensified, and in 1931 he was committed to Stockton State Psychiatric Hospital after being diagnosed with catatonic schizophrenia.
From 1935, the artist began to draw, he collected papers which he assembled using a glue which he made from saliva and shoe wax, and drew using colored pencils, pencils as well as match coal.
The work of Martin Ramirez is moving and exceptional. Thanks to artist and psychology professor Tarmo Pasto who met him at DeWitt State Hospital in Auburn in 1948, Ramirez's work will be preserved and preserved. Tarmo Pasto will provide Martin Ramirez with material and encourage him to continue his work which seems to be both narrative and abstract.
Martin creates more than 300 large format drawings, a translation of an illusory freedom, the artist produces creative and ingenious work where he uses color in a remarkable way to represent the visual symbols of his country and its memories. Martin Ramirez uses pure lines to create a remarkable work that is inspired by his Mexican origins and the laborious work he did on the railway lines.
Martin Ramirez is identified as one of the greatest artists of world art brut.